Do you know what it feels like to be a human? No? Well, let me paint you a little Bob Ross right here: I come home from a horrific night at my second job where I cried in peoples' food and fucked up everything. This is in addition to barely feeling adequate enough to hold onto my first job. When I get home, I have no one to cradle me while I suck my thumb in the fetal position. They buried my love life in one of those baby caskets for Tiny Tim years ago (typhoid fever), and the Frankenstein zombie of a love life I've been working with is, well, Frankenstein. With adult acne that mobilizes like the fucking Chinese on my chin when I'm not looking. Whatever feng shui the feng shui gods have allotted me is an array of empty Vitamin Water bottles, blurry receipts, and a veritable Mt. Olympus of clothes that I sleep with in and around my bed. The fridge is perpetually barren. Everybody I pass on the street is making out with each other. Everybody hates my stinking guts.
This is how it feels to this human. Sometimes.
We've all been there, when it seems like everything you have ever touched has turned to Hitler shit. It sucks, but bad days are a part of human nature. And most of the time, the only way out of the downward-facing shit spiral is to have yourself a good ol' fashioned ugly cry.
Enter: the Ugly Crying playlist. The sounds you play to help you drown in your own puddle of tears while simultaneously drowning out the sound of you looking like this: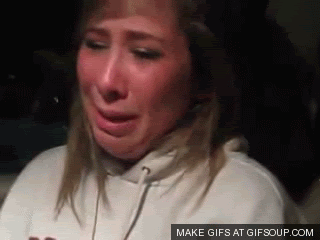 (Please note, dear readers, that this would NOT qualify as ugly crying:
This would be pretty bitch crying. Very rare. Very based.)
Classic depressing crooners like Elliott Smith, Fiona Apple, and Sufjan Stevens (yep, even that cancer song) are included, along with a variety of laments from the past and present. If some of your favorite blubber-jams aren't on there, copy my shit and use it as a springboard to make your own Ugly Crying playlist.
Just let the poison out, hunny. Let it all out.
Click here for blubber-jams: ugly crying
Ugly Crying Tracklist:
1) I'll Catch You – The Get Up Kids
2) No Name #3 – Elliott Smith
3) King of Sorrow – Sade
4) The Seer's Tower – Sufjan Stevens
5) Unrequited Love – Lykke Li
6) A Lack of Color – Death Cab for Cutie
7) Playground Love – Air
8 ) Hero – Mariah Carey
9) Play Crack The Sky – Brand New
10) Twilight – Elliott Smith
11) New Found Mass (2000) – The Get Up Kids
12) Transatlanticism – Death Cab For Cutie
13) Limousine – Brand New
14) I Know – Fiona Apple
15) Lead Me On – Bobby Bland
16) Personal – Stars
17) Hallelujah – Jeff Buckley
18) I'm In Here – Sia
19) Casimir Pulaski Day – Sufjan Stevens
20) Sea of Love – Cat Power
21) Trouble – Coldplay
22) Asleep – Elliott Smith
23) Size Too Small – Sufjan Stevens
24) Butterfly – Mariah Carey
25) Anytime – Brian McKnight
26) Sullen Girl – Fiona Apple
27) Line of Best Fit – Death Cab for Cutie
28) The Biggest Lie – Elliott Smith
29) In Another Time – Sade
30) Lover, You Should've Come Over – Jeff Buckley
31) Blue Eyes – Cary Brothers
32) Fix You – Coldplay
33) Fair – Remy Zero
34) I Just Don't Think I'll Ever Get Over You – Colin Hay
35) Between The Bars – Elliott Smith